OUR DOWNSTREAM DISTRIBUTION CAPABILITIES
The Group owns and operates an extensive network of downstream distribution companies with a local presence in Europe, the USA, China, Africa, and South America, where we market and sell our proprietary 'Unigloves' brand of disposable gloves to more than 50 countries globally. The Group also distributes ancillary products including surgical, vinyl, and cleanroom disposable gloves and reusable gloves, as well as non-glove products such as face masks and medical disposables.
Our prior investments in our distribution network and capabilities – managing our warehousing and logistics infrastructure and operating with our marketing teams in our key strategic markets, gave us a strong foothold.
The stronger 'Unigloves' brand presence with growing market share in all key markets in both the developed and developing countries, in particular the emerging markets, motivates the Group to continue to strengthen the 'Unigloves' brand positioning in our target markets.
We remain committed to delivering excellence consistently through our integrated OBM business model ensuring the quality and reliability of our proprietary branded products to our end users.
OUR DOWNSTREAM DISTRIBUTION NETWORK
The Group remains committed to nurture long term relationships with our customers.
Please visit our marketing offices in the respective regions for sales enquiries.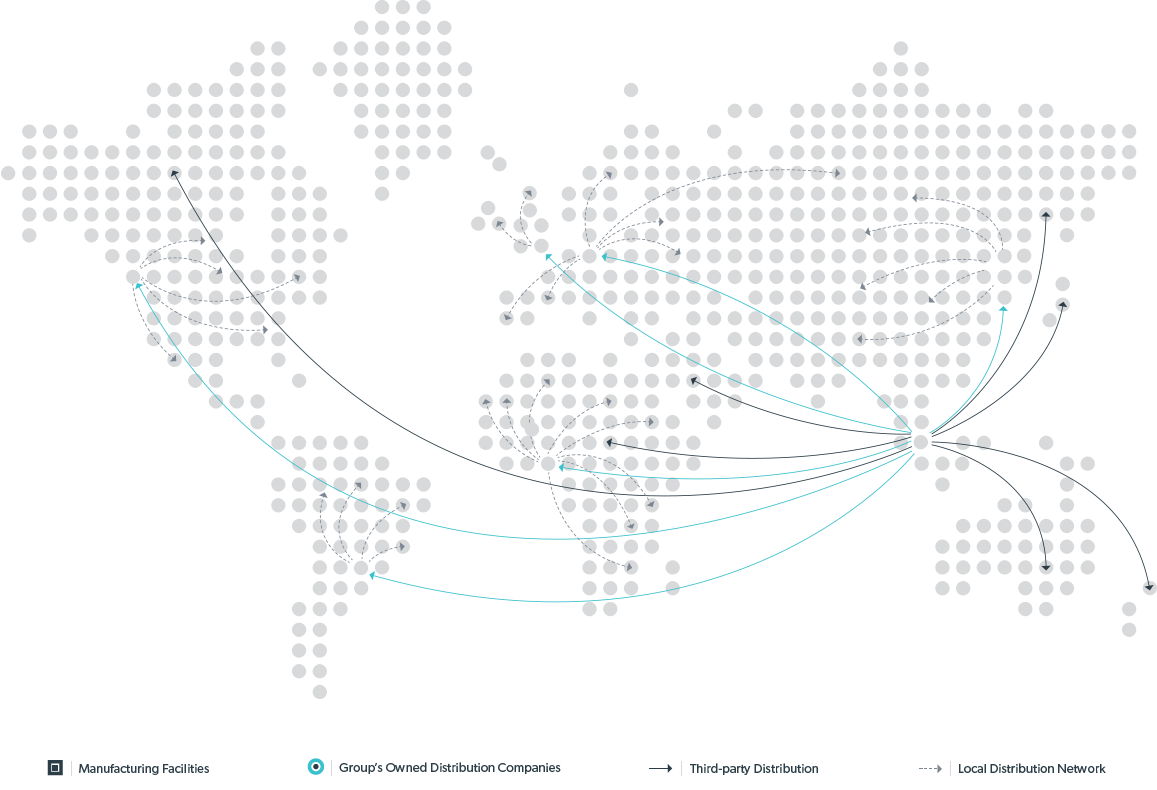 Unigloves UK
A
3 Ambley Green,
Gillingham Business Park,
Gillingham,
ME8 0NJ, UK
T
+44 (0)800 049 6602
W
www.unigloves.co.uk
Unigloves Germany
A
Arzt- & Klinikbedarf
Handelsgesellschaft mbH
Camp-Spich-Straße 71
D-53842 Troisdorf-Spich
T
+49 2241 9323 0
W
www.unigloves.de
Unigloves China
A
上海市浦东新区浦建路145号强生大厦902室
Unit 902, Qiang Sheng Building, 145 Pujian Road, Pudong, Shanghai, China
Postcode: 200127
T
+86-21-6131-0340
W
www.unigloves.com.cn
Unigloves Brazil
A
Rua Santa Catarina
293 Água Verde
80620-100 Curitiba, Parana
T
55 (41) 3027-5454
W
www.unigloves.com.br
Unigloves Nigeria
A
Plot B2, Block 73F Alakoso Avenue,
Amuwo Odofin Industrial Estate,
Lagos, Nigeria.
T
+234 814 836 8996 /
+234 808 568 1006
W
www.unimedicalhealthcare.com
Malaysia
A
Lot 62&63, Lorong Senawang 3/2,
Senawang Industrial Estate,
70450 Seremban,
Negeri Sembilan Darul Khusus, Malaysia
T
+606 6772 751/2